You do not need to seek any planning permission for a garden room with a toilet. It is because these toilets come under your property and it is up to you to modify them the way you want. Yes, there are certain limitations as the height of the toilet and the area it covers, which are super important.
This is the reason that we have come up with this handy guide to break it all down for you to simplify it further. This guide covers all the essential factors as the proper height, area, and design limitations for the garden room toilet which you can rely on to avoid legal complexities.
All you have to do is skim through it and consult this idea with your local planning committee as well. The regulations tend to change with the place. Keep scrolling to read it till the end;
Planning Permission Regulations For A Garden Room With Toilet:
Planning permission regulations for the garden room with toilet is inclusive of ensuring that:
Your property does not fall under the category of AONB (Area of Outstanding Natural Beauty).
You have to stick to the 2.5-meter height limit so that you do not encroach or build up a hurdle for the houses in the neighborhood.
You need to make sure that you do not treat these rooms as full-time sleeping rooms. It is because since they are located outside your house, they are comparatively less safe and unreliable for sleeping purposes.
As long as you are abiding by these factors, you can design your garden toilet to your heart's content. There is a misunderstanding that these toilets require special permission. Unless where you live is a strictly regulated area in the UK, you do not have to fear any legal procedures in this regard.
FAQs About Planning Permission For A Garden Room With Toilet:
Can I Put A Toilet In My Garden Room In the UK?
You can put a toilet in your garden room in the UK without fearing any legal complexities. It is because the regulations about such aspects are not the same everywhere in the UK. This is why you do not have to seek any permission to design a fully functional toilet for your garden room. It can be hectic to walk to your house whenever you have to go to the toilet. Going for a separate toilet in such rooms can be a big time-saver for you as well.
Likewise, you do not have to think twice before laying the sewage layout for your toilet. Since these rooms count as your property, nobody can forbid you from designing them or making them as convenient as you want. You can attach a full-fledged water supply and make your garden rooms more comfortable for all seasons.
Can I Put A Toilet In My Garden Shed?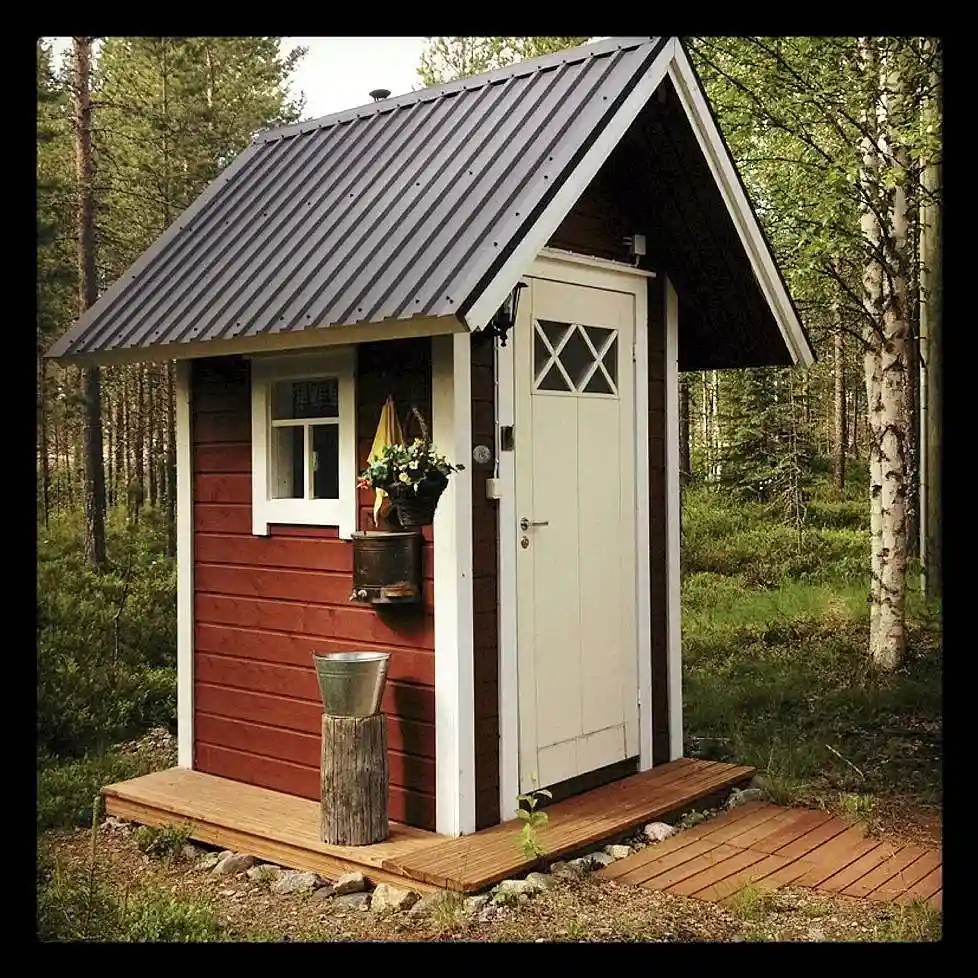 You can put a toilet in your garden shed without entertaining any worrying thoughts. These toilets form a part of your property and this is the reason that they do not come under the building codes. This is something that can be of huge help when you are having long leisure sessions in your shed. Gone are the days when you would have to rely on your home's bathroom for restroom facilities. This is high time you went for a garden room toilet to facilitate your guests further. These toilets depict a proper supply of water and a functioning drainage system to make it all more practical than ever before.
Moreover, such toilets can also increase the comfort of your garden shed. They can easily make such rooms more self-contained. If you use your shed for business activities, you do not have to cater to any interruption every time you have to go to the toilet.
This is one factor that can be super helpful if you do not want to splurge on the extra restroom connections in your home.
How Big Can You Build A Garden Room Without Planning Permission?
You can Build A Garden Room as big as 30 square meters without planning permission. One thing that you need to be sure of is that the height of such rooms such not cross 2.5 meters.
As long as you follow these measurements, you can do well without going through the extensive process of planning permission. As a first-timer, this rule of thumb can benefit you like nothing else to have a safer experience with such rooms.
Likewise, you have to ensure that there is still 2 meters of space along the boundary line and you have not built your garden room right next to it.
Similarly, you need to be well aware of the fact that these rooms should not be greater than 50% of your property. You need to have a properly constructed house and along with it, you can have a small garden room.
These rooms can make your life easier but the regulations should be paid attention to at all costs.
Does A Toilet Need Planning Permission?
No, a toilet does not need planning permission. Unless you are going over the board with designing, you do not have to get any permission from the local planning department. This is one place where people encounter massive confusion while constructing their houses. This is one of those queries that is more prominent among first-time homeowners.
The lack of proper guidance is the reason that such fears still exist in the minds of novice owners. You can design your toilet the way you want while ensuring that you leave the 2-meter space around the property line. This is to make sure that any leakage from the pipes does not affect the property next to your house.
However, for further confirmation, you can visit your building control office. Such offices have experts who can guide you better in designing toilets that will uphold the regulations of the area.
How Much Does A Garden Room With Toilet Cost?
A garden room with toilet costs from £1500 to £15000. It all depends on the kind of facilities you want to install in such toilets. You can have a basic one without going beyond your means. The purpose of the garden room toilet is to ensure your comfort and the better functionality of the room. This can be done easily without spending a fortune on designing these toilets.
However, when it comes to making a fancy one, you have plenty of options that can take a toll on your budget as well. This is why this is something that you should only consider once you are done spending on the room itself.
A garden room with a toilet in the UK will not cost you an arm and a leg. This idea can stay relevant as long as you are not splurging on the bathroom essentials. You can go ahead and perk it all up by choosing fancy flooring options.
You can install expensive faucets and make them look more luxurious than ever before. The point is there are innumerable ways to zhuzh up your garden room's toilet. It all depends on your budget and the area where you live in.