Local SEO is an offshoot of the Search Engine Optimization (SEO) process that helps increase the web presence of local businesses. It allows small businesses to flourish by optimizing themselves for local searches.
This brings in potential customers and organic traffic on the business pages. Local SEO has become the need of the hour to accelerate the growth of small businesses in the UK. For beginners, it can help in giving a kickstart to new businesses. You can use it to let Google's algorithm help you come up with popular searches.
This is why it is important to thoroughly understand its key features to use it for your business' good. We have come up with a complete guide that can help you employ a Local SEO Strategy to Promote your Small Business in the UK. Keep scrolling to read it till the end;
What Is Local SEO?
Local SEO is the ideal option to improve search engine visibility to increase the growth of local businesses. It can help the small businesses get an easy access to organic traffic. This, in turn, brings them closer to their potential customer base.
Along with this, it also gives a chance for these businesses to become more approachable to the people around them. This is why if you run a small business in the UK, you can use it to connect with the client base of your location. Your business can become more visible when it is just one search away from the customers.
Mostly, people confuse it with traditional SEO. Local SEO targets the local businesses around you, while SEO works to increase the business' visibility on a global scale. This is the next option to take your business a step ahead when you have easy access to people around you.
Both use similar techniques but differ in the overall results of their functions.
Why is Local SEO Important for Small Businesses?
Local SEO is important for small businesses to get smooth access to their target audience locally. It does so by making them more visible when someone around makes a search for Relevant Products or Searches. The small businesses in the UK are already suffering because of high inflation.
The declining productivity of the UK market has left a negative impact on them. Similarly, the advent of AI has presented a similar challenge to such businesses. It has put permanent limitations on the functioning of small-grade businesses.
In such cases, it becomes necessary for these businesses to look for options to increase the sphere of their visibility.
The local SEO turns the tables by preferring local businesses over large enterprises. In this way, it suggests the nearest option when someone searches for a product. The right use of it can help business owners save their money from spending on outdated marketing practices.
Another benefit is that you need not compromise on your budget for it. It is a budget-friendly way to enhance both your revenue and the return on investment (ROI) as well.
How Does Local SEO Help Local Businesses?
The local SEO helps local businesses by allowing them to improve their online reputation among clients. Using it, you can depend on the positive reviews left by your clients to attract more people. Also, it provides a platform for the owners to enhance their prominence on Google Maps.
This can come in handy for the people who run physical workstations as in restaurants, shopping centres, or plumbing shops.
The best example of how local SEO increases the business' growth is the success graph of Beverly Hills Periodontics and Dental Implant Center. This dental clinic in Los Angeles witnessed a 50% increase in the organic traffic on its website.
Similarly, there is a bakery shop called Cupcake Royale in Seattle which improved its profit by a whopping 60%. This is why small businesses in the UK can easily make the most out of local SEO to give a hard time to the big companies.
Benefits Of Local SEO: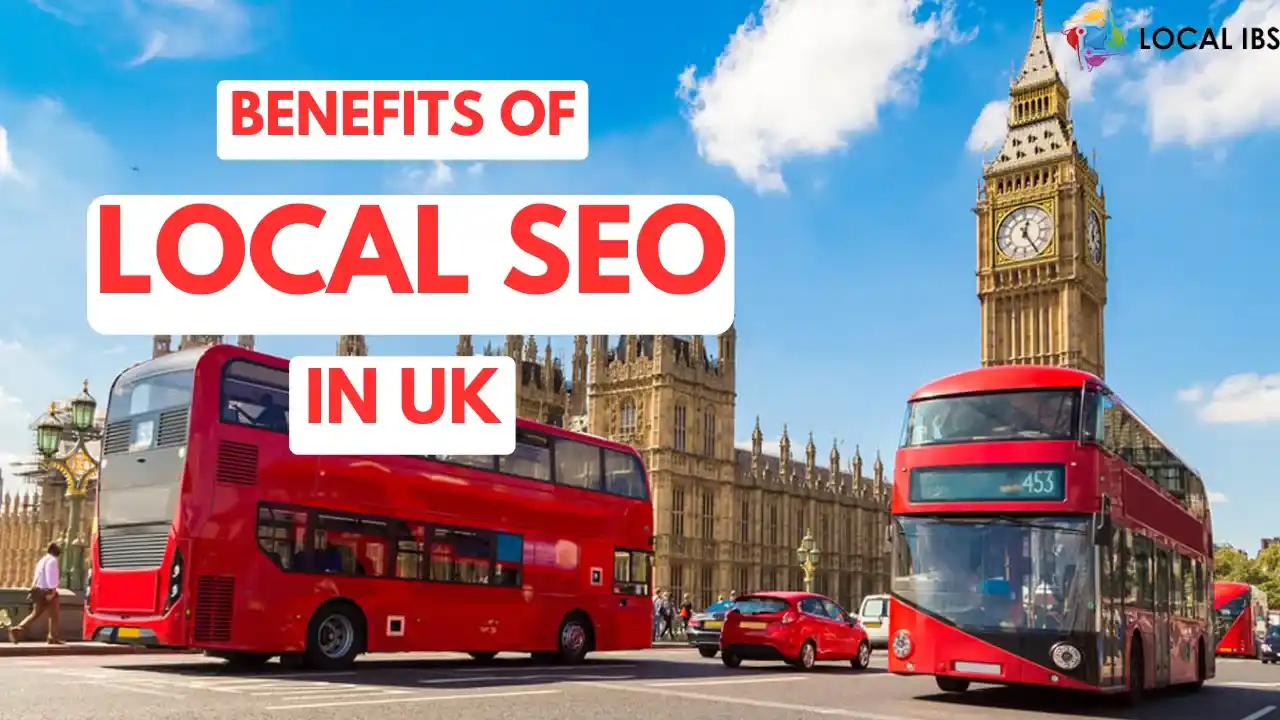 Local SEO is the most reasonable option to get started with increasing your online visibility. The below-mentioned benefits place special emphasis on the importance of this SEO strategy.
The biggest benefit of local SEO is that it enhances the course for organic web traffic. It works by targeting the local audience when they search for relevant services. An optimized Google Business Profile can help you give an elaborate introduction to your store.
A greater number of taps on your store brings your business up in the top searches. This can increase your chance of being chosen by the client since top searches are considered more reliable.
Interestingly, as per Google's research, more than 50% of people who looked up the store on search engines visited it the very same day. Similarly, 34% of searchers who used PC to trace out the nearest stores also contacted the shop the same day.
These stats say a lot about the way local SEO is empowering small businesses.
Since local SEO works the best for local businesses, it also boosts conversion rates for them. It is because clients tap on the options that are nearest to them. This action of seeing an ad and clicking on it enhances the conversion rate.
When you use local SEO, your shop will become more visible to people around you. This increased brand awareness results in an extraordinary rise in conversion rates. This is how the budget that you invest in online ads can also pay off if you go for local SEO.
The very fact that more than 46% of Google searches are about the nearest stores and their conversion rates increase up to 80% by just local SEO makes up enough reason to go for it.
Another important benefit of local SEO is that you need not invest in buying print material anymore. Gone are the days when you would rely on traditional marketing. It can help you make the most out of the online resources.
This is the reason that by choosing it, you do not have to take part in huge ad campaigns. It refines the target audience for you which you can connect with through your business listing profile.
When people are making 8.5 billion searches on Google just for local businesses, there is no need to rely on advertising anymore. The right use of local SEO can help you in marketing within your premises right from the first day.
Continuous Business Growth
The local SEO can help you the most if your Business Growth has stopped altogether. When it optimizes your online presence, your shop becomes more accessible to potential audiences.
This is the reason that long-term reliance on local SEO can result in stronger trust of clients in your services. Within a few years, your business becomes more visible to millions of users. All this you can achieve without spending a penny on traditional marketing channels.
Let us give you a success story of a business that saw overnight growth because of local SEO. There is a small business called Family Plumbing and Heating in the Canadian city of Regina. Within the nine months, the growth has immensely increased.
At first, they always had just one full-time employee. However, now they have hired six people as full-time employees to share the workload.
When you invest in local SEO, you can see an immediate improvement in the local search rankings. Being consistent with it can mean staying for a longer time in the top suggestions of search engines. The more users click on your store, the greater will be your online popularity.
This is going to ensure that your store maintains a good ranking among the local businesses. This is why people who opt for local SEO know that it is the only way to a permanent success rate. When you consistently optimize your business listing profile across the search engines, your business' ranking remains maintained.
The best tip to maintain your business' high ranking is to keep on uploading the relevant content. Similarly, try your best to cover as many services as you can. This is going to leave a positive impact on all SEO methods that you are using for your business.
You can use local SEO to outrank your competitors when a buyer makes a search for the services you provide. The easiest way is to have a responsive customer service. This can help in answering the client's queries as soon as they are posted.
Google's algorithm prefers businesses that are alert to clients' queries and concerns. Similarly, your customer service should also be vigilant about the reviews that clients post. All this displayed in your business profile across the business listings is going to help local SEO bring up your shop among the popular searches.
A coffee shop called That's Coffee in the US serves as the best proof of the power that local SEO has. Just by using it, the shop gained a 269% increase in website orders. This is the correct marketing strategy that you should be investing in.
The best way to make the most out of local SEO is to encourage your clients to leave honest reviews about your services. If you come across any negative feedback, make sure that it is answered as soon as possible so that the potential buyers know that you care about your clients.
Ideal review management can help in enhancing your business's brand image and your relationship with the customers.
The best tip to use your positive reviews to the fullest is by posting them all across your social media profiles. You can also request your client to provide immediate feedback about your services. However, it all depends on the listing you have chosen.
For instance, Yelp discourages the owners from contacting clients exclusively for reviews. On the other hand, Google encourages it. It is better to read the guidelines of the listing when you are dealing with reviews.
Let us be honest, nobody turns on the PC just to look up the nearest service. We all always have phones in our hands, which we can use anytime to search for a product. This is why local SEO places a special focus on mobile optimization.
The more your website is optimized to be used on phones, the better will be. Small businesses in the UK can make the most out of local SEO by ensuring that their pages are optimized enough to load quickly on phones. This is also inclusive of putting up content that is easy to read on the small screens.
The local SEO also helps the local businesses connect with each other which in turn boosts the community engagement. It can give you a chance to come up with collaborations and invite backlinking to your website for better access to the target audience. This is something that small businesses can rely on for faster growth.
Related Questions:
Is Local SEO Right For My Business?
Local SEO is the right choice for your business since it harbours organic web traffic and increases business growth.
Is Doing Local SEO Worth It?
Local SEO is worth it since it empowers small businesses to display their services and attract potential clients at a faster rate.
Conclusion:
In conclusion, local SEO is worth every buck since it lifts small businesses for a higher flight than ever before. It provides a faster route towards potential clients and also helps increase the traffic on your website.
Numerous small businesses all across the UK have seen overnight success because of the local SEO. It can be the potential option to save money on obsolete advertising tools. This is why go ahead right away to List your Business and invest money in local SEO for unprecedented business growth!